Haven't you ever wanted to be part of something truly amazing?
Here's your chance to be part of the Door to Door team! We welcome you to join our Kickstarter Campaign, where we're raising the funds we need to be able to bring you the rest of Season 1! Each donation tier offers a reward for your generosity, and with a minimum donation of only $1, there's no need to break the bank in order to become part of something amazing!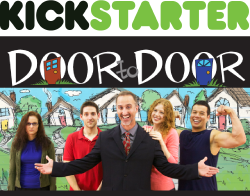 What is Door to Door?
Door to Door is a mockumentary style web series about the employees of At Your Door Service Enterprises; a unique door to door sales company that sells anything that their clients desire. From swords to fishes, anything their client wishes.
The plot revolves around new salesman Bryan Cooper, socially confused Cynthia Patterson, and fitness aficionado Ed Phuket (the sales team). Under the direction of their overly enthusiastic boss Klaus, and with sales routes mapped by bitter receptionist Mildred Mortimer, they are followed by a group of documentarians to capture their antics in the workplace, on their sales calls, and sometimes even their private lives.
The first season will consist of 20 (amazing) episodes, approximately 7-10 minutes each.
Where will I watch it?
Well, you can watch the pilot right here!
Once the rest of the season commences, you will be able to view it here on our website TheBestSeriesEver.com, our Facebook Page, and our Vimeo page!
What's the funding for?
Well, to put things in perspective, we have twenty episodes written and ready to go. That breaks our funding goal down to about $1,000 per episode, which is pretty tight. For example, an episode of The Office costs somewhere in the arena of $1 Million to produce… so we're hoping to do a whole lot with a little. If we're able to surpass our goal, the show will only get better!
There are a lot of costs involved in creating a 20 episode web series including, and not limited to, production fees, location fees, props, costumes, lighting, equipment, licenses, marketing, post-production, crew, talent, etc., but we're committed to delivering the best possible show to our viewers and supporters.
So, become a backer of Door to Door! Be a part of the At Your Door Service Enterprises Team and let's make history!